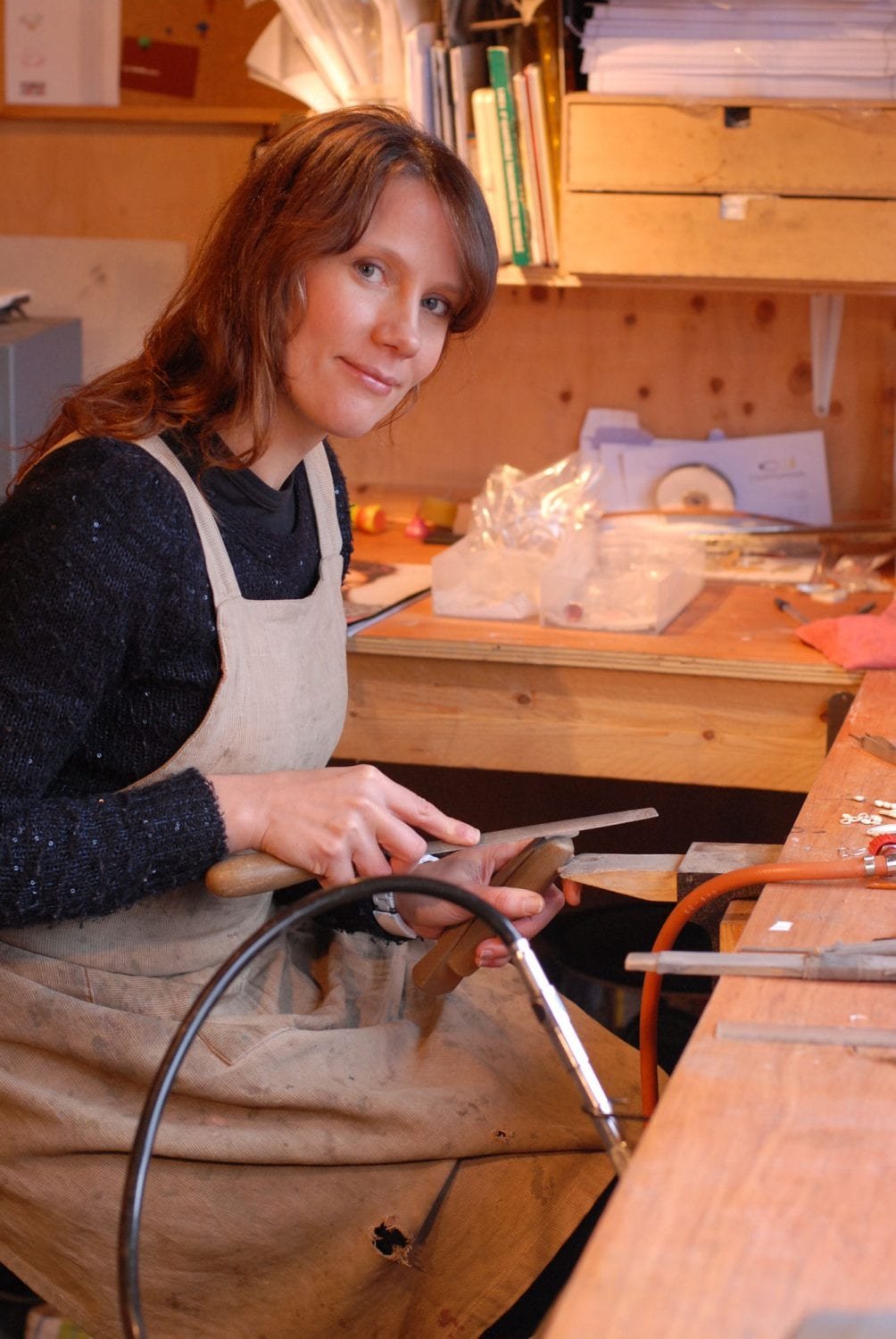 From wearable pieces to dramatic designs, Miranda Sharpe has been creating beautifully crafted jewellery for over 12 years. Miranda attributes her success as a designer maker to managing the range of roles you have to undertake when running a business, including being adaptable.
Miranda enjoys the advantages of being self-employed such as making decisions about the work and designing but she acknowledges that there is a downside. As a designer maker, Miranda is involved in creating her designs and all the business aspects of getting the pieces to market. She explains that in order to be successful there are lots of roles a designer maker has to undertake.
[quote]My job is an amalgamation of all the roles you might find within a company! I am the designer, the maker, the administrator, the promoter, the sales rep, I order the materials and manage the books. [/quote]
For Miranda, the most exciting aspect is generating an income from the items she likes to make, but the challenge is that income can be variable and affected by the overall economic state. Her advice is to always be aware of what is going on and be adaptable, constantly evaluating your work and the best routes to market.
Attending trade and retail shows to reach customers and outlets is a crucial aspect of the business. Increasingly, social media has become an important aspect of publicising her work alongside her own website  and a profile on a number of other websites.
Getting focused
After completing an MA at the Birmingham School of Jewellery Miranda secured support through a business incubation scheme in Birmingham's famous Jewellery Quarter, Designspace .
'Being a part of the scheme focused my ideas and enabled me to put a business focus on how to begin earning a living from making contemporary jewellery. I also met others in the same position who I then set up a workshop with. Being part of a group also meant I had others to bounce ideas off and we could test out potential shows together to reduce the initial costs.'
Making the most of my time
Now, as an established designer who exhibits her work and sells internationally, Miranda works from home balancing family life and her business. The secret to her success is being disciplined when working from home and Miranda has found that creating a work space separate to the house helps to establish a clear separation between working or home environments.
'Since having a family I have had to work within specific time frames so I find that I have to be more focused and efficient. Working from home allows me to make better use of the time I have available as I don't have to incorporate travel time into my day, however I do tend to use my evenings to make up my working hours instead of getting chance to put my feet up and watch some TV.'
 Miranda's Tips for aspiring designer makers
You need to be motivated, passionate, resilient and have a clear idea about where you want to be in the market place.
It's important to research and test out your ideas. What are you offering? Who is it for? Do they want it and how will you reach them?
It can take time to get things off the ground so think about how you will support yourself in the meantime. It's also really important to keep trying.
Your product won't be right for everyone but don't take it personally, keep approaching potential customers to find who it suits but also listen to what they tell you and be adaptable if necessary.
[hr]
For a full list of stockists see the Miranda Sharpe Jewellery website.
Miranda will be exhibiting her work at a selection of venues over Christmas including: